Matthew Shampine (차민근)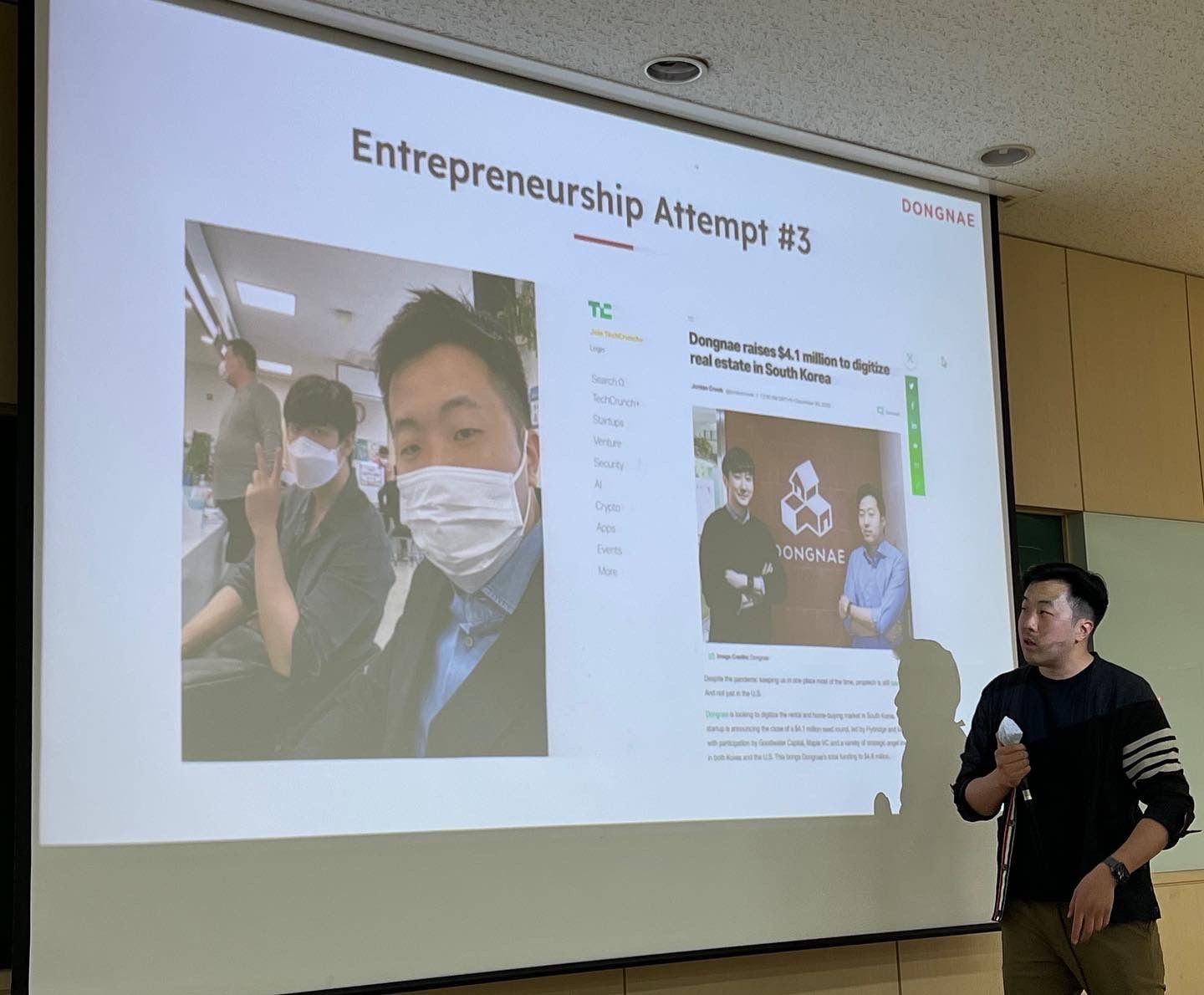 Hi. I'm Matt Shampine, but please feel free to call me 차민근 if you prefer. My wife, Claudia, and I currently live in Seoul with our daughter and dog.
I am the co-founder and CEO of Dongnae, a proptech startup focused on changing how home rental is done in Korea. We've raised KRW40B to-date from incredible partners in Korea, Silicon Valley, and NYC that include: NFX, MetaProp, DS Networks, Hana Financial, Hana-Magna, DAOL, Flybridge, iloom, Goodwater, and Maple.
Prior to founding Dongnae, I was with WeWork for over 9+ years. I was initially an early members of WeWork in New York City when our digital agency, Simande, joined the WeWork community at its first location in May of 2010. It was then that I got my first deep exposure to real estate, as the two WeWork co-founders, Adam and Miguel, hired us to build WeConnect - WeWork's digital platform to handle conference room scheduling, member management, billing, community, and more.
In April of 2011,  my friend, Jesse, and I co-founded and opened the first WeWork Labs location in Soho. Over the years the program has evolved and WeWork Labs has since become a home for thousands of early stage startups in over 100+ locations all across the globe.
From 2011 through 2019 my role at WeWork evolved as the company expanded from 1 location to over 700+. During the earlier years, I was a part of the team helping our expansion to cities across the US such as SF, LA, Boston, Seattle, DC and Austin. As WeWork continued to grow, I moved into a Business Development and Marketing position where I helped to set up partnerships with brands, universities, non-profits and local governments as well as help create WeWork's online magazine and grow its social media presence.
In 2015, I was given the opportunity to be a part of a three-person team to lead WeWork's expansion into Asia and Australia. Across China (Shanghai & Beijing), South Korea, Hong Kong, Australia (Sydney & Melbourne), and Japan (Tokyo) we setup entities in each country, sourced and signed real estate locations, helped the global executive team fundraise, stood up marketing and sales organizations, and hired hundreds of the best people across the region. I served as Managing Director and focused as the head of marketing and revenue for the region, responsible for brand building, social media, digital marketing, events, partnership, and sales.
I moved to Korea in August of 2017 to assume the role of General Manager of WeWork Korea. In my two years in that role I lead WeWork Korea's expansion from 2 locations to 19 and grew membership base from 3,000+ to over 17,000+ between the cities of Seoul and Busan. I also helped to spearhead the WeWork Creator Awards in Korea in 2019 that was co-hosted by the Seoul Metropolitan Government.
I currently serve on the Board of Directors for GOA'L, a non-profit that supports Korean adoptees and an honorary mentor for the 6th annual Bluebird Program for Holt Children's Welfare Center. This year I am also fortunate enough to be a International Strategy Forum 2023 Asia Fellow with Schmidt Futures.


---